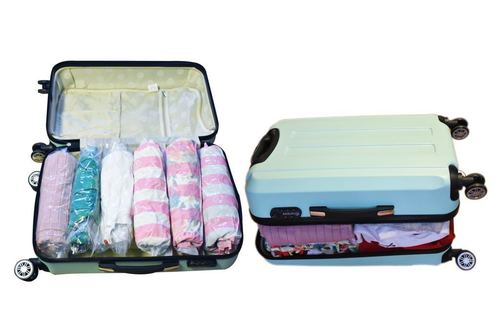 Vacuum Storage Bag
Price And Quantity
Pack/Packs

3.00 - 549.00 INR
Product Specifications
Plastic

Multiple Extrusion
Multiple Sizes

70 Centimeter (cm)
320 Gauge

100 Centimeter (cm)
Product Description
Sizes Available :
Small ( 50cms x 70cms ) : Pack of 3 Pcs
Medium ( 60cms x 80cms ) : Pack of 3 Pcs
Large ( 70cms x 100cms ) : Pack of 2 Pcs
X- Large ( 80cms x 100cms ) : Pack of 2 Pcs
XX-Large ( 100cms x 120cms ) : Pack of 1 Pc
Free Hand Pump With 1 Pack
If you're going on a trip, you should ensure that you get tobring with you each and everything that you would require. Nevertheless, therecould be instances when not everything could fit in your bag. In fact, bringingmany bags on your trip might be quite a hassle. Having a number of suitcasesusually inhibit ease of mobility. Additionally, this may cost you several bucksif you need to check in these bags. To solve this suitcase dilemma, you may usevacuum storage bags which are ideal for trips regardless of whether it's for afew days or weeks.
With these storage bags, you may bring all your items thatyou require for your trip without worrying about the luggage space. Theseparticular bags are quite economical since they can be reused because they aredurable and also sturdy. The following are some of the reasons to use vacuumstorage bags:
Increases space : Vacuum storagebags usually compress any content by simply rolling out the air. In fact, theabsence of air tend to reduce the space that is taken up by the clothing insidethe bag. Also, this airtight feature still prevents odor from entering the bag,thus making your clothes to remain clean and also smell fresh. In addition,dust and dirt cannot penetrate these bags. These vacuum storage bags are alsowatertight, thus prevent moisture or even moulds from building up.
Durability
When it comes to sturdiness, you candefinitely rely on these special bags. The sturdy plastic construction usuallymakes it durable, and the bag doesn't rip easily. Also, you may reuse thesebags since they don't tear easily even when you use them for several times.This is definitely a practical as well as economical feature of vacuum storagebags.
Available in big sizes
These bags normally comes in largesizes. The big size may fit as much as a dozen large clothing pieces likejackets, sweater and jeans. In case you want something that may fit pillows,beddings and other much bigger items, there are actually extra-large as well asjumbo-size bags. You will definitely be amazed at how much you will store inyour suitcase with these bags.
Efficiency and convenience in packing
With a vacuum storage bag, there is noneed to leave any item behind. These bags are perfect when it comes toproviding more luggage space as they compress the contents in the bag. With allthese amazing features, these bags are absolutely necessary to resolve anypacking dilemma.
Using Vacuum Storage Bags: AnEfficient Way Of Saving Space And Money
There are a lot of reasons why youshould start using vacuum storage bags. First of all, they are very efficientin compressing space. This is especially important if you want to have morespace in your home. Vacuum storage bags are commonly used to store clothes andother textile-based things. Using the bags will open more space in your closetor cabinet. This means you can put in more clothes inside. The bags also serveas protection against clothing damage caused by mildew, moisture, dust, andpests like ants cockroaches and other bugs. The bags are very easy to use aswell. Any type of vacuum cleaner can be used to compress the bags with theitems inside. If you don't have a vacuum cleaner, you can make use of a manualhand pump.
Vacuum storage bags are also veryuseful if you are traveling. The bags allow you to store more clothes in yourbackpack or suitcase. By average, you can double the number of clothes you canput in a suitcase if you have all of them placed inside a vacuum bag.Furthermore, since the bags are made of tough and elastic plastic, they protectthe clothes and other items inside from getting wet and incurring damage. Also,the bags are usually reusable which means you can use them over and over againas long as they have no tears or holes.
Vacuum storage bags come in severalsizes. Some are small enough to store clothes like shirts, underwear, andpants. And some are big enough to accommodate large items like blankets,comforters, pillows, jackets, and sweaters. It's a great and efficient way ofpacking and sealing your clothes. It keeps the items fresh and clean. If youare unsure which vacuum storage bags you should purchase, below is an overviewof some of the best brands currently being sold in the market. Let theserecommendations serve as your guide in choosing which bags are suitable foryour storage needs.
Contact Us
F-25, Kolhapur Road, Kamla Nagar, Delhi, Delhi, 110007, India
Phone :+918037303459